Pastoral Support at Yew Tree
At Yew Tree Primary we want everyone involved with our school to feel well supported. We believe that good pastoral support focuses on nurturing the individual needs of each child. We aim to build trusting and empathetic relationships with all our pupils and their families.
Pastoral care underpins personal development and we know from experience that with outstanding pastoral care, pupils feel they belong and their self-esteem is able to flourish because they feel valued and cared for. We offer support and guidance for families experiencing difficulties and provide a link between home and school to try and resolve issues at an early stage.
Supporting the pastoral needs of pupils and families sometimes involves working with external agencies. In these situations we ensure that a confidential, professional, non-judgmental and sensitive service is provided.
Range of services that offer different support
Yew Tree can help by referring you to
these agencies where necessary
There are a range of services that can help with many different aspects a family can face, especially when bringing up young children. Below are those used by a lot of parents at Yew Tree and the feedback we have had is excellent. This can include issues such as childcare, education, domestic violence, mental health, debt or housing. If you feel you could do with a helping hand, but not sure who to turn to, please get in touch with Mrs Barber who is always happy to help point you in the right direction.
What Happens to my Referral
We will need you to answer a few questions and complete a short form this can be done with Mrs Barber who will support you throughout the process.
Please be reassured that the information you provide is confidential and you will not be judged upon the answers you provide. All we ask is you are honest so the right advice can be provided to you.
Below is a diagram illustration which gives you a brief explanation when a referral is made to decide which would be the best agency to support the family and how it this support will be provided.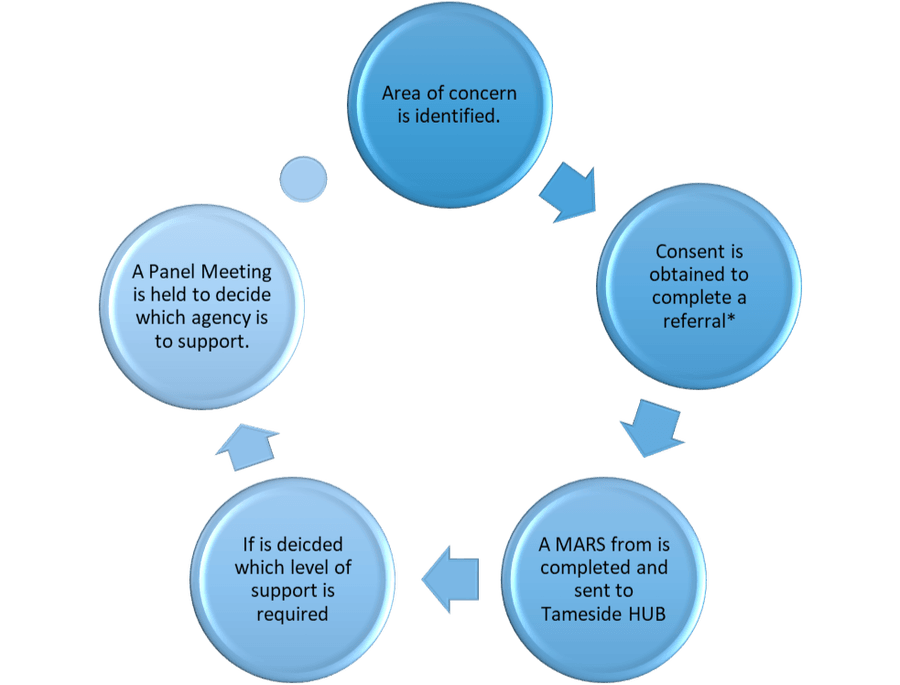 Yew Tree Lane, Dukinfield, Tameside SK16 5BJ
0161 338 3452
admin@yewtree.tameside.sch.uk